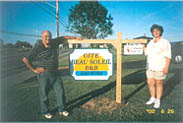 Owners:
Emery Landry &
Lorraine French

Contact Us...
Thank you for your interest in our Bed & Breakfast. We are available to answer any and all questions, prior to and during your stay with us. We look forward to serving you, your family and friends during your visit. We can also suggest many areas to see and visit in the surrounding area if information is needed.
If you have any questions, comments or suggestions, please feel free to contact us.
To make a reservation you may contact us via email at
gitebeausoleil@rogers.com or call 506-532-6720.
Come and visit the Shediac region and you will
not be disappointed. Hope to see you soon!
Gîte Beausoleil B&B
649, Main Street
Shediac, NB
E4P 2C6
Tel: 506-532-6720
gitebeausoleil@rogers.com
Get driving directions :
Click here