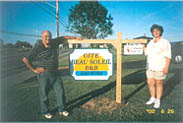 Owners:
Emery Landry &
Lorraine French

Rooms & Rates...
First about our place:
The house has many features for your enjoyment. These include, but are not limited to:
- Air conditioning
- Guest refrigerator
- Private entrance to all 2 rooms
- Rooms have private bathrooms
- Large paved driveway for parking
- BBQ on outdoor patio
- Garden includes vegetables, flowers and 24 apple trees.
- Telephone access
- Free WiFi available
Our Rooms
We have 2 beautiful rooms that will make your stay comfortable and relaxing.
LANDRY Room
- Queen size bed
- Color TV
- Rocking chair and electric fireplace to curl up and relax.
- Electric heat for your comfort.
- Air conditioning
FRENCH Room
- Queen size bed
- Color TV
- Rocking chair to curl up and relax.
- Electric heat for your comfort.
- Air conditioning
Private bathrooms
in each of the 2 rooms
Our Rates
High season : July and August
$110.00 per day (includes full breakfast)
Low season : September to June
$65.00 to $85.00 per day (includes full breakfast)
Gîte Beausoleil B&B
649, Main Street
Shediac, NB
E4P 2C6
Tel: 506-532-6720
gitebeausoleil@rogers.com
Get driving directions :
Click here